Ed Thompson was a visionary when it came to the transportation of commodities by river barge. The McClellan-Kerr Arkansas River Navigation System was in its infancy in 1971 when he took another big step-building the Port of Pine Bluff along with several other ports along the Arkansas River. The system of locks and dams helped make the river more stable and also eased flooding. This allowed year-round barge traffic, which changed the way that many Arkansas companies moved their products to ports worldwide. He also served as a past chairman of the Arkansas Waterway Commission.
https://www.pbcommercial.com/obituaries/20200812/obituaries-for-8-14-20
During the first week of June 2020, AWC Director Cassandra Caldwell and Communications Specialist J.W. Misenheimer visited several ports throughout the state. Director Caldwell was formally introduced to each port director and his/her team and the needs of each port were discussed. Several AWC grant awarded projects were also looked over by Mr. Misenheimer. The ports included on the tour were Little Rock, Fort Smith, Crossett, Camden, Newport, Osceola, and Helena Harbor. Director Caldwell also provided face masks to the workers at the ports. Over 1000 masks were delivered.
Arkansas Waterways Commission Director, Cassandra Caldwell, ODOT Waterways Program Manager, Thaddaeus Babb, and Bruce Oakley, Inc. Barge VP, Josh Childress, met with delegates at Legislative Summit in D.C. last week to discuss the top priorities on the MKARNS. Director Caldwell also spoke on the White, Red, Ouachita, and Mississippi Rivers and their priorities. In this featured photo, Director Caldwell and company were preparing to speak with Congressman Markwayne Mullin to discuss advancement projects in both Oklahoma and Arkansas.
Mr. Ken Cowling, AWC commissioner, passed away on Monday at his Texarkana, AR home. He will always be remembered as a kind soul who was passionate about the advancements of the navigable rivers in Arkansas. Mr. Cowling was appointed by Governor Hutchinson to fill the unexpired term of Bill Varner, deceased. Mr. Cowling was a graduate of Southern Arkansas University where he majored in Accounting and Business. For the last 40 years, he owned and operated Cowling Title Company, a company that deals with title business across the entire State of Arkansas. While the Red River was his area of concern, Mr. Cowling stated that all port matters deserve attention. Mr. Cowling served as State Representative for Miller and Little River Counties from 2000-2006. Mr. Cowling was active in the Chamber of Commerce for both counties. Mr. Cowling is survived by his wife, Elaine.
A new executive director has been named for the Arkansas Waterways Commission. The commission board has appointed Cassandra Caldwell to take the reins of the organization.
As executive director, Caldwell will head up the state's agency for overseeing and promoting waterborne transportation and economic development for the ports of the Arkansas, Mississippi, O
"I am thrilled to have Cassandra here at the Arkansas Department of Commerce as our Executive Director of the Waterways Commission," Secretary of Commerce Mike Preston said in a statement. "With 1,800 miles of navigable waterways, it is critical that our waterway transportation meets the needs of businesses and provides easy access to U.S. markets around the world. Her skills and experience are top notch and exactly what we need in this role."
Caldwell is replacing Deidre Smith, the commission's executive director since 2017. She assumes her new role on Monday, Feb. 24.
Most recently, Caldwell served as the administrative programs officer for the Oklahoma Department of Transportation. She previously served in the U.S. Navy.
She holds a degree in medical and molecular biology from Rogers State University and also an associate's degree in biology and legal studies.
Director Deidre Smith's last official order of business with the Arkansas Waterways Commission before resigning her position was to sign two memorandum of agreements with Colonel Eric M. Noe, commander of the Little Rock District U.S. Army Corps of Engineers (USACE). One of the agreements provides $50,000.00 to cost share with USACE on a new design for tow haulage equipment to standardize and update the existing equipment along the Arkansas segment of the McClellan–Kerr Arkansas River Navigation System (MKARNS). The other agreement for $200,000.00 will be used to create a model designed to fix an area in the channel that seems to be a "hot spot" for shoaling at MM 222 close to Dardanelle. These funds are acquired from ad valorem taxes collected on barges traversing the Arkansas River. Both of these projects will benefit all the ports and shippers on the MKARNS.
The city of Fort Smith received a $295,000 grant to fix the port of Fort Smith after it was damaged in 2019 summer floods.
The Arkansas Waterways Commission gave the Port Authority of Fort Smith the grant on December 13th. The deputy city administrator, Jeff Dingman, said the money will be used to fix the railroads leading into the port, the scale house, and the scales.
(TB&P) –The Fort Smith Port Authority has agreed to take steps to get the Port of Fort Smith back in condition to open for business. The authority signed a contract with Studio 6 Architects to render professional architectural and engineering design services to rebuild two buildings, parking and a truck scale at the Port of Fort Smith.
The facilities were damaged during record flooding of the Arkansas River in May. The contract, approved during the authority's Thursday (Oct. 31) meeting, stipulates the cost of services not to exceed $140,000.
The port authority approved a resolution to award a contract for the cleanup and demolition of damaged facilities to Haston Recycling LLC in a special meeting Aug. 7.
Once the design work is completed, a construction manager will step in to rebuild. A contract for that service is still in negotiations. Marty Shell, Ports of Fort Smith and Van Buren operator and owner of Five Rivers Distribution in Van Buren, said he hoped that contract would be completed sometime next week.
The port authority authorized Shell to purchase and install a new scale at the port at a cost of $54,000 and to do to necessary railroad work at the site at a cost of $50,000, Shell said. To help with the costs of repair and rebuilding, the port received a grant for $295,593 from the Arkansas Waterways Commission Wednesday (Oct. 30) to "reconstruct and repair the port facility from damage caused by 2019 flood event," Shell said.
Other grant recipients were:
• Helena-West Helena/Phillips County Port Authority — $304,028 to improve water supply for current and future tenants of Helena Harbor through the phase three of the Helena Harbor Water Improvement Project;
• Osceola Port Authority — $300,000 for port access road improvement and resurfacing;
Chicot-Desha Metropolitan Port Authority —$204,678 to upgrade the overhead bridge crane previously installed in 1995;
• Little Rock Port Authority — $167,713 for construction of a heavy equipment connector road; and
• Crossett Port Authority — $ 55,000.00 for expansion of storage space in Warehouse #2 to meet the needs of the Rescue Unit.
To read more of this article, visit our content partner Talk Business & Politics.
Halted for months by flooding, barge traffic on the McClellan-Kerr Arkansas River Navigation System has resumed on a restricted basis, Tulsa Port of Catoosa Director David Yarbrough said.
"Typically, they are moving 12 to 16 barge tows," he said Thursday following a board meeting of the City of Tulsa-Rogers County Port Authority. "They are limited to two wide and three deep, so they are limited to six barges."
Operated by the U.S. Army Corps of Engineers, the navigation system is 445 miles long and runs from the Tulsa Port of Catoosa to the Mississippi River. It supports economic activity across a 12-state region, moving 10.9 million tons of commerce worth $3.5 billion annually, U.S. Sen. Jim Inhofe, R-Okla., said last month.
Spring and summer flooding rendered the channel unsafe for navigation. The heavy rain also resulted in the deposit of tons of silt, necessitating a re-dredging.
When shoaling — the formation of a natural underwater ridge — occurs, the U.S. Coast Guard defines an authorized channel and marks it, Yarbrough said.
"If you get out of that authorized channel, they don't mark it," he said. "What happens when you get shoaling like this the channel is blocked, but we've found a bypass.
"So while this is blocked, we've found a way over here to snag a 2-by-3 tow with a little bit of work. The industry will mark that channel and barge traffic resumes. Until that authorized channel opens, we'll be restricted, which is limited barge sizes and daylight only."
The corps has emergency dredgers on the job, Yarbrough said.
"Unfortunately, the entire Mississippi River basin has had flooding, in some cases since January," he said. "So dredgers are busy everywhere. There is not a lot of dredging availability right now. We're taking what we can get.
"There still is a lot of work to do. It's probably still going to take a couple of months."
Flood Impacts of the River, Updated as of July 25th, 2019:
Drone Footage of the Great Flood of 2019:
This was the first footage before it had crested: https://vimeo.com/339615256/10c1f88036 And this is the one from when it was cresting: https://vimeo.com/341414666/0e94b755d2
 Forecasted Mean Daily Flows, May DataView the PDF here. 
"The first two pictures show Rob Roy levee in Pine Bluff where a railroad goes through a man-made gap. They have taken up the tracks, filled in with dirt then covered with plastic and sand bags.  The last two pictures are of levee north of the river at Rob Roy Road. The track at a man-made opening was taken up, filled with dirt then covered with plastic and sand bags on the river side. So far everything is holding." 
- Phyllis Harden, executive assistant at Pine Bluff Sand & Gravel
"I just talked with our port: 'Crested on Thursday at 50.8 ft. and today its down to 50.2 - yeah it is going down! I feel like we dodged a bullet.  Really the National Guard facility is the only building at the port in the water and the parking lot of the Corp."
-Lou Ann Nisbett, President and CEO for the Economic Development Alliance for Jefferson County, Arkansas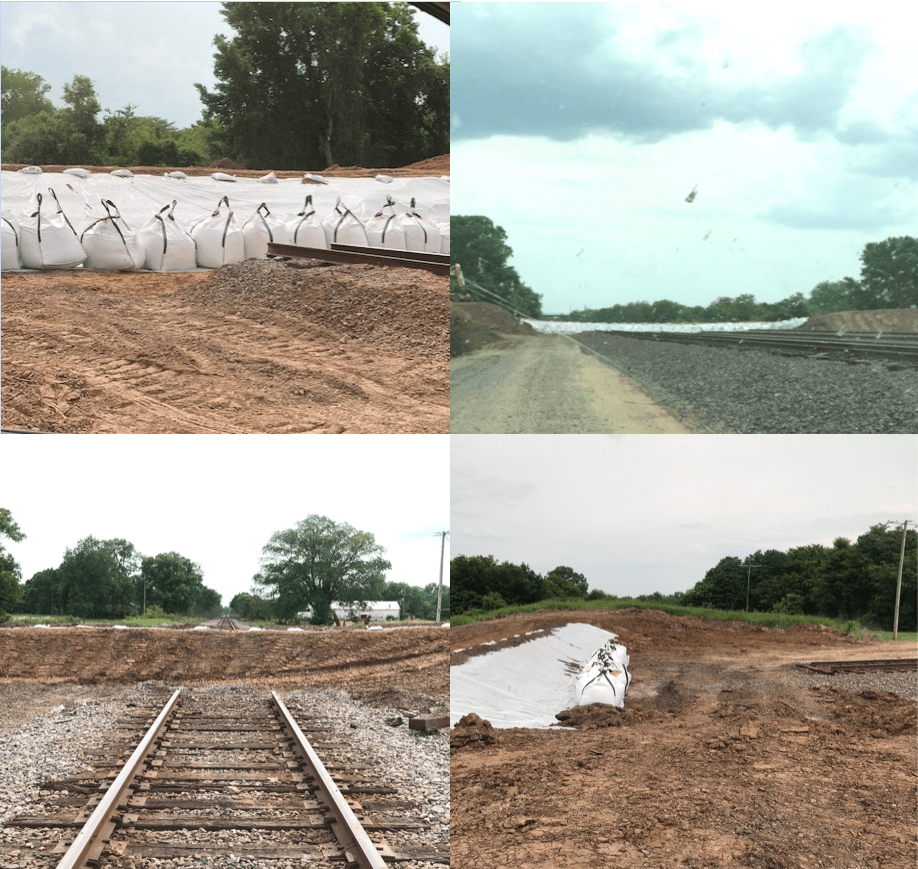 Today's update includes the rest of the hydrologic systems in Little Rock District although the Arkansas River remains the primary focus.
Bottom Line: The Arkansas River is cresting in central Arkansas. The river is expected to remain near its crest for 3 to 5 days before slowly receding. Isolated showers on northern side of the Arkansas River Basin in the last 24 hours. Remaining Little Rock District lakes are NOT at risk of surcharge operation. USGS still making stream flow measurements from Van Buren to Pine Bluff at key forecasting points as the flood event progresses.
ARKANSAS RIVER CURRENT FLOWS, FORECAST CRESTS, and CREST DATES:
Van Buren, crested 31-MAY at 570k cfs
Ozark, crested 01-JUNE at 570k cfs
Dardanelle, crested 02-JUNE at 585k cfs (higher than upstream stations due to locally heavy rain that occurred on and around 29 May).
Morrilton, cresting today at 560k cfs.
Toad Suck, currently at 535k cfs, cresting 03 to 04 JUNE at 545k cfs.
Little Rock, currently at 500k cfs, cresting 04-JUNE at 535k cfs.
Pine Bluff, currently at 490k cfs, cresting 07-JUNE at 530k cfs.
Dam 02, currently at 450k cfs, cresting 09-JUNE at 530k cfs.
Precipitation/Forecast.
SHORT TERM (Today through Tuesday Night) 0.5" or less over Little Rock District
LONG TERM (Wednesday through Sunday) Forecast now shows 1" up to 1.75" over flood impacted area.
QPF Day 1 (Mon AM-Tues AM): https://www.wpc.ncep.noaa.gov/qpf/fill_94qwbg.gif?1559566297751 spotty rain, trace to 0.5".
QPF Day 2 (Tues AM-Weds AM): https://www.wpc.ncep.noaa.gov/qpf/fill_98qwbg.gif?1559566708181 trace rain.
QPF Day 3 (Weds AM-Thurs AM): https://www.wpc.ncep.noaa.gov/qpf/fill_99qwbg.gif?1559567331326 trace to 0.5" across district
QPF Days 4-5 (Thurs AM-Sat AM): https://www.wpc.ncep.noaa.gov/qpf/95ep48iwbg_fill.gif?1559567934 1.5" on western district boundary to 3" on eastern district boundary
QPF Days 6-7 (Sat AM-Mon AM): https://www.wpc.ncep.noaa.gov/qpf/95ep48iwbg_fill.gif?1559567934 Trace to 0.25"
Reservoirs with more than 25% and less than 50% flood storage in use.
LITTLE RIVER SYSTEM. None.
WHITE RIVER SYSTEM. Greers Ferry.
ARKANSAS RIVER SYSTEM. Blue Mountain.
Reservoirs with more than 50% and less than 75% flood storage in use.
LITTLE RIVER SYSTEM. None.
WHITE RIVER SYSTEM. Beaver, Bull Shoals and Norfork.
ARKANSAS RIVER SYSTEM. None.
Reservoirs with more than 75% and less than 100% flood storage in use.
LITTLE RIVER SYSTEM. None.
WHITE RIVER SYSTEM. None.
ARKANSAS RIVER SYSTEM. Nimrod.
Reservoirs with more than 100% flood storage in use.
LITTLE RIVER SYSTEM. None.
WHITE RIVER SYSTEM. None.
ARKANSAS RIVER SYSTEM. None.
WHITE RIVER SYSTEM. Near trace rain, no runoff. fs = flood storage
Beaver: elev 1127.22' and steady (66.5% fs); releasing firm power, 950 cfs (average per 24 hours).
Table Rock: elev 916.90' and falling (99.7% cs); no FRM release requirements, passing inflow (~2k cfs).
Bull Shoals: elev 684.22' and steady (63.3% fs); releasing firm power, 3.8k cfs (average per 24 hours).
Norfork: elev 572.11' and steady (62.9% fs); releasing firm power, 1.3k cfs (average per 24 hours).
Greers Ferry: elev 474.78' and steady (47.1% fs); releasing 3k cfs (average per 24 hours).
Current stage at Newport is 20.11' and is falling (12' regulating stage).
Current stage at Georgetown is 19.75' and is steady (13' regulating stage).
Clearwater: elev 519.33' and falling (15.6% fs); releasing
Current stage at Poplar Bluff is 9.75' and is falling (10.5' regulating stage).
Current stage at Pocahontas is 16.43' and is falling.
ARKANSAS RIVER SYSTEM LAKES.
Blue Mountain: elev 406.88' and falling (48.6% fs); releasing 1.4k cfs.
Nimrod: elev 368.66' and steady (75.1% fs); releasing minimum.
LITTLE RIVER SYSTEM. Trace rainfall.
DeQueen: elev 437.03' and falling (0.1% fs); releasing 30 cfs.
Gillham: elev 503.37' and falling (1.0% fs); releasing 500 cfs.
Dierks: elev 531.61' and falling (12.4% fs); releasing 800 cfs.
Millwood: elev 260.37' and steady (2.2% fs); releasing 15k cfs.
The fast flow and high water on the Arkansas River has had "devastating" consequences for river commerce, the director of the Arkansas Waterways Commission said Tuesday.
"I think [the] term 'catastrophic' is right on point," said Deidre Smith. "It's going to be devastating. I'm sure it's going to be hard getting navigation back."
Full story here: https://www.arkansasonline.com/news/2019/may/29/high-water-closes-ports-20190529/?business
An opening is currently being plugged in a levee at Pine Bluff. These pictures detail a track being taken up at Rob Roy levee opening. Commissioner Phyllis Harden plans to update the AWC on this process.
We are proud to share with you this year's USA TODAY U.S. Army Corps of Engineers. Please find your complimentary digital copy via the enclosed link.  Feel free to forward this link to any and all interested parties. You are also welcome to post this link on your website and/or social media and share it with your community. Click on the link below to view the publication. 
AWC Director Deidre Smith presented at 8 Western River District's DTRAIN United States Coast Guard Auxiliary Conference held in Little Rock, AR on April 12th. Director Smith opened the ceremony and talked about the importance of the inland rivers in Arkansas and the important role the U.S. Coast Guard Auxiliary plays in providing boat safety training, emergency response, and the monitoring of the aids to navigation on the navigation systems.
Phyllis Harden, Pine Bluff Sand and Gravel, was sworn in as a commissioner to the Arkansas Waterways Commission by Chief Deputy Secretary of State Bill Huffman, Jr. on February 28th, 2019. This makes Mrs. Harden the first ever female to serve as an AWC commissioner, which is a very historic moment for our agency! We are excited to have Mrs. Harden on our team and look forward to working with her in the future.
Deidre Smith, Director of the Arkansas Waterways Commission led a strategic planning meeting concerning the Ouachita River at the offices of the Ouachita Partnership for Economic Development.
In attendance were several members of the Camden Port Authority, board members of the Ouachita River Valley Association, members of the Arkansas Economic Development Commission and Camden Mayor Julian Lott.
"I am so excited to be in Camden Arkansas today," Smith said. "I've been wanting to do this for quite some time. Fortunately I called Mayor Lott and he said come on down. We need to reinvigorate the Ouachita River navigation system and try to get some economic development here."
According to the Arkansas Waterways commission website: "The Arkansas Waterways Commission is the sole state agency responsible for developing, promoting and protecting waterborne transportation in Arkansas. The Commission also promotes economic development for ports on the five commercially navigable rivers of the state: The Arkansas, Mississippi, Ouachita, Red, and White Rivers. Please click the links on the left for more information."
Presentations were heard from Skip Martin of the Vicksburg District United States Army Corps of Engineers on the the Ouachita River History and the locks and dams.
A 337-mile-long "Ouachita-Black Rivers Navigation Project" began in 1902, to create a navigable waterway from Camden, Arkansas to Jonesville, Louisiana, and when completed in 1924 included six locks and dams that were 84 feet wide and 600 feet in length.
Martin said the two lock locations in Arkansas, Felsenthal and Thatcher were both constructed in 1984.
Bryan Scoggins of the Arkansas Economic Development Commission gave a short presentation on the Opportunity Zone regulations set up by the federal government. Two of the zones are in Camden and offer a deferrment on capital gains tax in regards to investing in businesses. Scoggins did admit that a lot of the details on the zones still have to be worked out by the IRS.
Smith indicated an interest in what materials could be transported on the river and said that the Union Pacific railroad located in town could be a huge asset paired with the river.
Though barge traffic has slowed considerably from the heyday of the river. The idea was tossed around in the meeting that river traffic could connect with the SouthArk Intermodal Park to support transportation.
Ouachita County Judge Robert McAdoo stated: "Right now as the river sits the barge trafficking is not what we can really push to get ORVA to stimulate the Corps of Engineers. What we really need push is the other uses of the river as our biggest seller, as far as industry, public water, the recreation aspect. If we get a little barge traffic in the county, there's the possibility that it may come up north to the city."
After the meeting Lott said: "I really am excited about the team of players we have at the table. I was glad that Judge McAdoo came to the table with some information. Our whole, almost our whole Port Authority was there, so we were able to glean some information. We're going to look into some grants and look into some other things to make our waterways more viable. We're going to work together to make it happen. This is just the beginning, the seed. We're going to go to work from here."
The AOPOA 2019 Membership Meeting and MKARNS Navigation Workshop will be August 13-15, 2019 in Tulsa, OK. We invite you to join us for the Arkansas Oklahoma Port Operators Association Annual Meeting and MKARNS Navigation Workshop at the River Spirit Casino Resort. More details regarding this event will be shared soon. http://www.aopoa.net/#
The White River Regional Port Authority, with assistance from the Newport Economic Development Commission, completed Phase I of an access road into the future site of the White River Port in Newport. The project was funded by a $134,000 grant from the Arkansas Waterways Commission and a 10% match given to the Port Authority from the NEDC. In addition, the Port Authority also received a $141,720 grant from the Arkansas Waterways Commission for Phase II of the access road. Special thanks goes to Waterways Commissioner for the White River, Jeff Rutledge and Chairman Harvey Joe Sanner, along with the staff of the Waterways Commission led by Deidre Smith.The Newport Economic Development Commission reported on the growth the NEDC, the City and the County worked on, including:The Newport Economic Development Commission working with the Arkansas Economic Development Commission began the process of certifying a Mega Site in Jackson County. The site contains 3,200 acres and will be the largest industrial site in Arkansas when certified. Through the year, several of the hurdles for certification were cleared, and the NEDC hopes to finalize the certification of the site in 2019.In May, Gränges Americas selected Jackson County as the site for their $26 million investment in an aluminum manufacturing process over a site in another state. Gränges had purchased the assets of the bankrupt Norandal Company and selected Newport as the site for this expansion.
http://www.newportindependent.com/news/20190114/newport-economic-development-commission-year-in-review-for-2018
Little Rock Port Authority Grant Reward
Mrs. Deidre Smith, Executive Director of the Arkansas Waterways Commission, presents the Port of Little Rock with a grant award in the amount of $260,000. This money will be used to enhance the Port's infrastructure to better serve the global markets.
The White River Regional Port Authority Grant Award
The White River Regional Port Authority was recently awarded a grant for Phase II of the development of a port facility on the White River in Newport, Arkansas. The Arkansas Waterways Commission selected the White River project for a grant of $141,720.00 to be used to continue the development of access into the port site. In 2017, Phase I was funded. The first phase developed signage for the port and started the access road construction.
Phase II construction on the access road will begin in the spring and finished before the end of July 2019. This project includes working to construct the road over the levy to allow access while also maintaining flood control. The Port Authority is currently working with a company to re-establish shipping on the river by the fall of 2019.
Funding for the grant from the Arkansas Waterways Commission comes from fees generated by waterborne transportation companies active on Arkansas rivers. These fees generated by the users of the river are then allocated to assist with development of Arkansas' navigable waterways. The White River is a navigable waterway to Newport.
The continued support of the Arkansas Waterways Commission for the work on the White River is a huge benefit to towns up and down the river. The Arkansas Waterways Commission working with the White River Regional Port Authority and the Newport Economic Development Commission are dedicated to reviving shipping on the White River.
Fort Smith Grant Award
For the first time since 1980, the Port of Fort Smith has a new building to accommodate more commerce on the Arkansas River.
A unit with 30,000 square feet of bulk storage was built over several months at the port with a $110,000 matching grant from the Arkansas Waterways Commission's Arkansas Port, Intermodal and Waterway Development Grant Program.
"It helps us grow tonnage and secure tonnage,"said port operator Marty Shell of Five Rivers Distribution. "The last time we had a new building here was 1980. It's brought new life to the port."
Shell pointed out the facility was completed with no Fort Smith tax money. It was paid for with 90 percent Waterways Commission funding and 10 percent matching money from Five Rivers. In all, the facility is valued at $900,000.
Last year, the Fort Smith Port Authority received more than $500,000 from the grant program to build the facility operated by Five Rivers Distribution. Shell said the new dry storage facility is being used now for bulk storage of an animal feed product.
The Osceola River Port Authority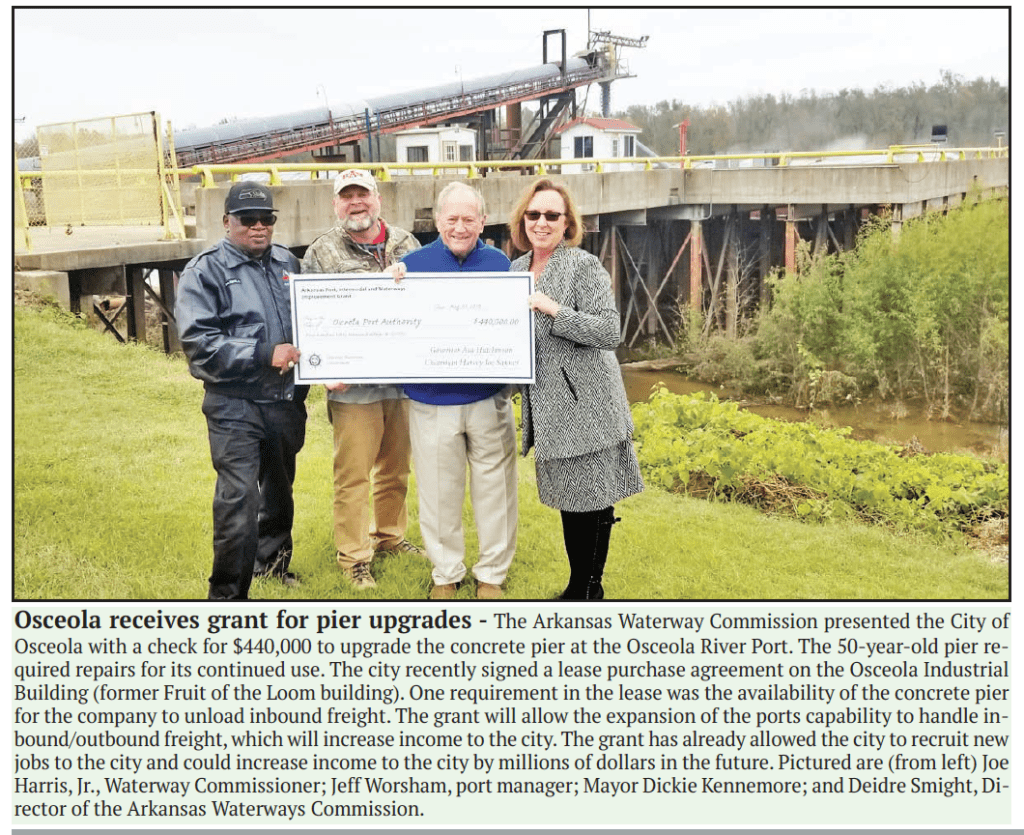 It is with our deepest sorrow that we inform you of the passing of Commissioner William "Bill" Varner who passed away peacefully on November 21, 2018. From Texarkana, Mr. Varner represented the Red River on the Arkansas Waterways Commission. Mr. Varner was heavily involved in efforts to expand navigation along the Red River from Shreveport, LA to near Texarkana, AR. Mr. Varner is co-owner of Fulton Farms. He has served as chairman of the Miller County Levee Board #2, president and board member of the Miller County Farm Bureau and was active in the Arkansas Cattlemen's Association.
https://www.dignitymemorial.com/obituaries/texarkana-tx/william-varner-8065071